I just received an email from a lady asking me to be more personal with my emails and she hoped to see more about the person I am and what I like in life, so I thought I would tell you a little bit about myself.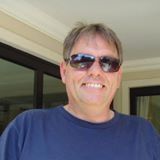 As most of you know, my name is Paul Birnie, I am a 52 year young Scotsman who lives in South Africa, the greatest country in the world. I maintain and write a blog about the secret of manifestation, which is all about sharing information on the ability to live a life of happiness and abundance. The best manifestation I have ever manifested in my life by using the secret of manifestation information, is free time, to do what I want to do when I want to do it.
I also have an Imports and Exports business that I work on for about three days a month that gives me an income to have the free time. You might ask what I do with all my free time. I go on a lot of vacations as I love to travel and see new places, this year I am going to Portugal, Spain and the UK and I also visited Timbevati earlier this year.
I also like traveling around South Africa. When I go on my travels, I normally build a crystal grid in the places that I visit. The grids assist the oneness energy that we direct to the Oneness pendants that I sell on the internet.  I like to read, but do not read as much as I used to. The books I read is mostly on manifestation, life and how life works.
I love to take time to reflect on my life and think about manifestation and how it all works, I also enjoy and meditate quite a lot.
I am married to Amanda, who is my best friend that I do everything with and go everywhere together. Amanda is my anchor, my best teacher and confidant. She always keeps me grounded and always steers me in the right direction, she is such a free spirit, especially with a glass of wine in her hand.
Amanda's Sister Adele, also stays with us and has done so for many years. They are not just sisters, they are soul mates on a very deep level that will never be separated.  Adele is my biggest challenge in life and is always there to challenge anything I say.  She always gives me the gift to grow and become more of who I really am and for that I love her.  Like her sister, she is a very free spirit and just like her sister, especially free with a glass of wine in her hand.
My older friends tease me and say I have two wives, my reply is yes, twice as much earache LOL!!!
Socially, I go out with my friends, visit them at their homes, or go on trips with them. I have a variety of different friends, my newer friends believe in the same things I do, like… you create your reality, whereas my older friends think I am nuts and what I believe it is a lot of hogwash, they just love to tease me about my beliefs. I just love being in their company and when I see them, they are always the most welcoming and happy people I have ever met, I am sure the booze has a lot to do with that LOL.  I must admit I am very lucky in the friend's arena.
I love football and follow Man united and watch every game on TV, which I must say my wife does not join me in. I can see all the Liverpool supporters now unsubscribing from my emails…. ah well!!!
I live in Edenvale in Johannesburg, South Africa and just love it here, I love my home and have been here for 20 years. My two boys, James and Marcel were brought up in this house and Marcel always says he wants this house when I no longer need it. My two boys are grown up now and James works away in Kuruman and comes visits every month. Marcel is married with three children and stays around the corner from us.  Marcel, his wife Jenna and the grandkiddies visit us often and we just love them coming over, Amanda is in her element when they are here.
I used to work in the garden a lot and have built it from scratch, I often walk around my garden, and appreciate every flower and tree, as I have seen them grow up from small.  The day I leave this house will be a sad day for sure, as there is so many great memories here.
I used to want to save the world, but now I just want to enjoy the world for what it has to offer. The good and the bad, I will always see it in a different light, as I have come to realize that you cannot separate them, as both gives you a special gift to become and experience more of who you are.
Well, now you know a little bit about the person behind the posts and emails and now when you read them you will know a little bit more about me.
 Pictures of My Home & Family